The second of two very tough days, and yes, it hurt, again. Very much looking forward to our one official rest day, the day after tomorrow, when we only have eight miles to do.
So, a slightly confused start – took the obligatory selfie before I'd donned the necessary walking attire. But from Dufton, an almost immediate climb to Knock Fell. Twenty years ago we set off to a backdrop of dark grey skies, which, on our arrival at Knock Fell, parted as the Red Sea before Moses – the pouring rain we'd set out in ceased, to reveal clear blue skies. This time there was no such drama – blue skies all around from the off. Boring, quite frankly. And a little annoying – we've grown to love cloud cover these last couple of weeks.
From Knock Fell it was a short hop to the radio mast encumbered Great Dun Fell, and an even littler hop to Little Dun Fell. From there to the newly refurbished "bus stop" atop Cross Fell.
As before, the long, long descent is what really hurt – down a stony track, made up of boulders, bits of brick, and many other items designed to jar and spike at a walker's foot.
Thinking of twenty years ago again, it was from the little village of Garigill that we phoned the Youth Hostel to let them know we'd be late. It's only another four miles from there to Alston, and along the side of the South Tyne river, but after fifteen, four may as well be forty.
Anyway, here we are in Alston. Only sixteen miles to Greenhead tomorrow, and then we do battle with Hadrian's Wall.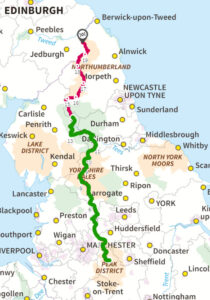 [table id=1 /]
Follow me