Today was going to be a challenge, we knew that. We've both walked the same, and more, distance before without too much trouble. But certainly I haven't walked more than 15-16 miles in one day for many years, and certainly not after walking solidly for the last eleven days. Today we walked just over 21 miles.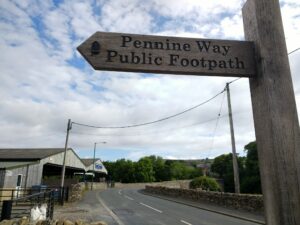 Over breakfast I was feeling queasy about the task ahead, but, by the time we were setting off out of Middleton, I'd focused on the task with a grim determination. As usual, I have to say, Adam was stoic and determined despite his various injuries.
We left Middleton for the trek along the River Tees. This is delightful tourist fodder, and a very pleasant stretch of the Way. It runs alongside the river, departing at times, but then returning for views of Low Force and High Force waterfalls (the latter being understandably larger and more impressive than the former).
It was around here that we were required to wash our boots with disinfectant. It seems there's a disease affecting the juniper bushes that is spread via soil stuck to walker's boots.
After departing the Tees, the Way makes one final wave towards civilisation at Langdon Beck before marching off into the moorland.
There were a couple of breathlessly warm miles before we met up with the Maize Beck, the valley of which facilitated a wonderful cool breeze. Then there was the approach to Cauldron Snout. It's a combination of lazy moorland hugging the Beck, and arduous, ankle twisting, expletive inspiring rock scrambling. The Snout was where we were going to take a break, so of course it was a very long time in coming.
Cauldron Snout is a large waterfall, where the overflow of Cow Green Reservoir flows into Maize Beck. It's as impressive as it is arduous to climb – more vertical rock scrambling akin to climbing Pen-y-ghent.
After Cauldron Snout (at 14 miles in) is where things started to fall apart. Adam soldiered and I stumbled on along the now paved access road that takes the Way most of the way to High Cup.
A few miles over moorland takes you to High Cup – a breathtaking glacial valley that opens up below you after the miles of flat moorland. As ever I took photos, but my mind had checked out at this stage. We stumbled down from High Cup over the last few miles into Dufton and into the welcome embrace of refreshment at the pub. Adam was unfortunately accosted by a local for wearing his rucksack indoors but said local quickly apologised when he realised we were walking for charity – and when his partner took him to task for being an inconsiderate fool.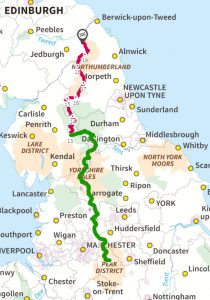 [table id=1 /]
Follow me