We're done. It's done. PW20 is done. I'm now sitting in the beer garden of The Border Hotel in Kirk Yetholm, and it feels fantastic, absolutely fantastic. Just brilliant. Brilliant and fantastic. Okay, enough of the hyperbole.
First of all some words about the Forest View Walkers Inn. It's a fantastic place, really brilliant. Sorry, hyperbole again. But it really is. It's the ideal stopping point for walkers in Byrness, and it's ideally situated to help with splitting that murderous final day. We stayed the first night, after hiking from Bellingham, we hiked to the halfway point at Windy Gyle the next day, they collected us from nearby (2 miles nearby), we stayed the second night, then they bussed us back out to 2 miles below Windy Gyle to finish the walk. And when I say they bussed us – it took about half an hour along single track military roads, so not for the faint hearted, and taking a sizeable chunk out of their very busy schedules.
Unfortunately Adam has sustained an ankle injury, and, after persuasion, relented to retiring from the hike before the end (if you've seen the photo of his ankle on Facebook you'll understand why). We agreed early on that it was a team effort though – I covered Adam as he covered me.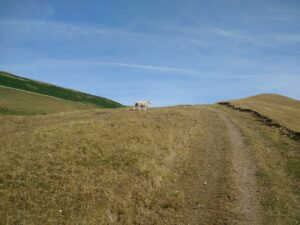 So I started the final day, after the rollercoaster ride along the military roads. The climb up from the drop-off point at Trows Farm was, frankly, rude. Two miles almost straight up along a farm track to Windy Gyle, in the same kind of heat and sunshine we'd "enjoyed" during the first couple of days.
Then, apart from meeting two national park wardens who were mending a fence, I didn't see anyone until near Auchope Cairn. On the climb to said cairn I met a lady who we'd encountered at the Forest View. She's walking from Land's End to John O'Groats in aid of pancreatic cancer research. She's taking it a little more steadily than us, but is mainly camping or sleeping in mountain refuge huts (as was her stopping point for today, just down from Auchope).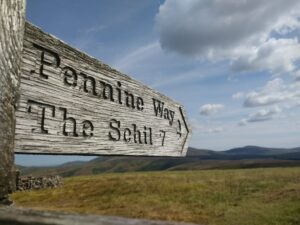 It was at Auchope that I lunched, looking down into the valleys and over the summits that I had yet to climb for the day. Although it looked frightening from where I sat – the amount of metres to climb, miles to walk – I was soon at the summit of The Schil.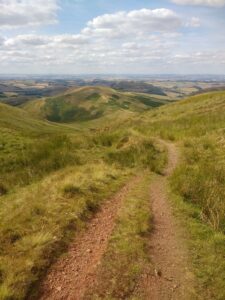 From there I elected to take the lower route down to Kirk Yetholm – a gentle descent, followed by a sharp descent, and then some road walking into the village. Followed by a sharp ascent, then descent into the village.
So that's it for now, for PW20. As the next couple of days pass I may share more thoughts. For now, we're off to bed.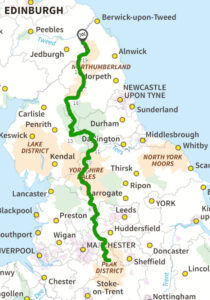 [table id=1 /]
Follow me