First of the last two days. As I write this, on a valley side, looking over at a very ugly farm house (not my words), I'm very much looking forwards to finishing tomorrow. I mean, very much, looking forwards to it. There have been several times over the last two and a half weeks (starting on that monster of a second day) where I really didn't think we'd be able to finish. I remember it being a challenge when we did the Pennine Way twenty years ago – I don't remember it being as painful or exhausting though. But then, twenty years ago the weather consisted of drizzle, heavy rain, low cloud and the odd sunny spell – this time the cloud and rain have been the rarities to a backdrop of soaring temperatures and sunshine (horrible for walking in).
I've decided this is going to be the last time I do any kind of long distance walking. I know I shouldn't be talking about last times for things in my early forties, but my body is telling me it's at its limit, and it's not overly happy with it. Am I glad I've done the Pennine Way again? Ask me that in a different way. Am I glad to have had the challenge of doing the Pennine Way again? Yes. Have I enjoyed it? It's odd – many people have said "enjoy the walk" or "enjoy your day" when we've departed our accommodation in the morning, or when we've met people along the Way. But I've said to myself that the only time I've really enjoyed a day's walk is when it's over. It's the sense of satisfaction after the event that's the enjoyable part. The scenery along the Way is of course stunning, and there are many occasions where you can only fully appreciate the landscape by walking through it. Maybe, as I look down at my battered boots, I'm still looking at things through the eyes of the punch-drunk boxer – given a few more days to recuperate, I dare say I'll be able to answer the question of enjoyment with a little more positivity.
Today then. Last time, we did these two days in one – thirty miles from Byrness to Kirk Yetholm, up at 4am, getting into Kirk Yetholm at 6pm. Madness. Sheer madness. This time, we set off from Byrness with only fifteen miles to go to the halfway point at Windy Gyle.
Straight out of Byrness, one has the very rude climb up Byrness Hill. It's rather an unforgiving climb through the hot closeness of the pine forest that encompasses Byrness.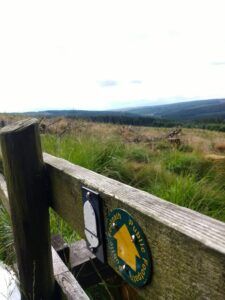 Once you're up on the ridge, overlooking Byrness it's fine, and it's a wonderful 360 degree view. It sets one up for what to expect from the next ten miles or so. The day consists of rising from the ridge to a summit, then dropping back down a little, rising a little more to a higher summit, dropping back down again. We elected to skip over the Roman Chew Green, cutting out half a mile, and removing the need to drop down and then climb back up from it. Our lift back to Byrness was kind enough to stop and give us a better view of Chew Green anyway.
Lunch was taken outside the mountain refuge, just after a group of squaddies had departed it. Another group of squaddies walked past after them. The day's walk did run alongside a military training area / artillery range, so I dare say they were on some form of exercise. But, apart from those, the only other people along the walk were right at the end – two Geordie hikers at Windy Gyle.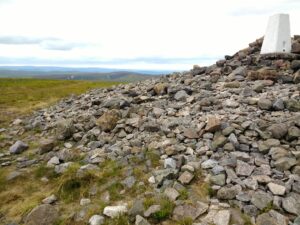 Tomorrow then. The final day. I'll say it again just to savour the sounds of the words – the final day. Trows Farm to Kirk Yetholm.

[table id=1 /]
Follow me