A rest day, just shy of eight miles. Twenty years ago, we stayed at the Youth Hostel (then called Once Brewed), and we didn't go to the pub of the evening, even though it was a short day like today. This is really bothering me now – why, if the pub was only next door, did we not go? I can't remember. It was one of only two stops that we didn't go to the pub (the other being Keld, which didn't have a pub at the time). Although this actual building (the Twice Brewed Inn) looks very new, there has been a brewery on this site for hundreds of years. Odd. Anyway, forgive my distraction.
A short day then, and a picturesque one, along part of Hadrian's Wall. We even had a lie in (breakfast at 8:30). It wasn't all plain sailing though – there were uppy downy bits. After bidding farewell to the Greenhead Hotel, the path back to the Way goes straight along a long green tunnel alongside the river. It wasn't the widest of tunnels, we would have struggled if anyone had been coming the other way – I couldn't even turn around with my full rucksack on.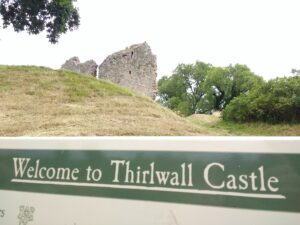 Then, after a brief glimpse at Thirlwall Castle (constructed, I understand of stones stolen from the Wall), it was climbing time again. Straight up a grassy slope, which would have been an absolute joy had it been horizontal, but sadly horizontal was not a word you could reasonably use to describe said slope. We were walking along the course of the Wall, although at this point there was no evidence of it. Then, through a carpark, we managed to lose the Way. One of the most famous footpaths in Britain, and we managed to lose it. Clumsy, perhaps. This isn't unprecedented – we managed to lose our way 20 years ago on the way to Jacob's Ladder, which is perhaps the best walked section of the path. But after a little map consultation, we found the Way again, and were reunited with the Wall.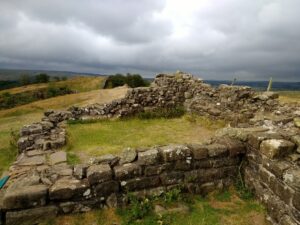 It's here, around Walltown Crags that the more complete sections of the Wall were for our walk today, with the odd milecastle set into the stonework. From there, we elected to take the Roman Military Way for a stretch – it runs along the south side of the Wall, and while being the same mileage, is rather flatter.
Over the couple of miles after this, the Wall alternates from simple dry stone wall (presumably of more recent build) and actual Roman wall fragments.

A short road walk down from the Wall, and we were at our destination at the Twice Brewed Inn.
We now have four days left, one to Bellingham (Bellinjum), then to Byrness, then the two days to cross from Byrness to Kirk Yetholm.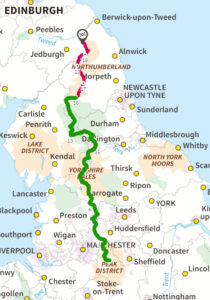 | Day # | Date | Start | Destination | Miles Walked | Cumulative Miles Walked |
| --- | --- | --- | --- | --- | --- |
| 1 | 07/07/2018 | Edale | Crowden | 16.1 | 16.1 |
| 2 | 08/07/2018 | Crowden | Standedge | 14.4 | 30.5 |
| 3 | 09/07/2018 | Standedge | Mankinholes | 13.5 | 44.0 |
| 4 | 10/07/2018 | Mankinholes | Ponden | 15.7 | 59.7 |
| 5 | 11/07/2018 | Ponden | Thornton in Craven | 11.5 | 71.2 |
| 6 | 12/07/2018 | Thornton in Craven | Malham | 11.9 | 83.1 |
| 7 | 13/07/2018 | Malham | Horton in Ribblesdale | 15.2 | 98.3 |
| 8 | 14/07/2018 | Horton in Ribblesdale | Hawes | 14.9 | 113.2 |
| 9 | 15/07/2018 | Hawes | Keld | 13.2 | 126.4 |
| 10 | 16/07/2018 | Keld | Bowes | 13.4 | 139.8 |
| 11 | 17/07/2018 | Bowes | Middleton | 12.5 | 152.3 |
| 12 | 18/07/2018 | Middleton | Dufton | 21.4 | 173.7 |
| 13 | 19/07/2018 | Dufton | Alston | 19.3 | 193.0 |
| 14 | 20/07/2018 | Alston | Greenhead | 16.7 | 209.7 |
| 15 | 21/07/2018 | Greenhead | Once Brewed | 7.9 | 217.6 |
| 16 | 22/07/2018 | Once Brewed | Bellingham | 15.6 | 233.2 |
| 17 | 23/07/2018 | Bellingham | Byrness | 15.7 | 248.9 |
| 18 | 24/07/2018 | Byrness | Trows Farm | 15.5 | 264.4 |
| 19 | 25/07/2018 | Trows Farm | Kirk Yetholm | 14.7 | 279.1 |