Our third practice hike took us into the Peak District, and was on possibly the hottest day of the year so far (and I understand, the hottest day in May ever).
Things started well, as we left Monyash, although the descent and, particularly, the subsequent ascent of Cales Dale did prove a tiring challenge. Once we'd got our breath back and the land leveled off a little, it was a pleasant hike – a mixture of long, unshaded fields and wooded areas to provide relief from the sun.
It was on the approach to Elton that events took an unfortunate turn. With the words "it's not that deep" ringing in my ears, I took a regrettable and slightly different course to Adam across a muddy bog, and sank to my ankles in mud. This was, as I say, regrettable, but we continued along a considerably drier field and the mud around my boots started to dry. We then approached another area of bog, punctuated by wiry tufts of grass which acted as stepping stones. This is when the second regrettable incident occurred, for me at least – I think Adam's choice of stepping stones was wiser than mine. I took a step and found my right leg swallowed by the ground to just below my knee. I uttered something along the lines of "oh bother" as I foundered in the bog and proceeded to remove my leg from its predicament.
Adam walked, and I squelched, into Elton for lunch. Elton is a delightful village – at least, the little we saw of it was. It's one of the many places you pass through on a hike and wish you had more time to stop and take in the views. Rejoining the Limestone Way we passed through the tourist-rich Robin Hood's Stride – again, it would have been great to stop here for longer. Rock formations prove excellent scrambling material and provide excellent views.
After a shady detour around Castle Ring, we came upon the view of Youlgreave below us, which was a welcome sight, knowing that the majority of the remaining walk was along the rather flatter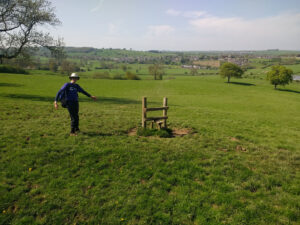 Lathkill Dale. It was also where we came across the stile referred to in the title. The field boundary was long gone, but it seems either the farmer or the rights of way department had decided it was still necessary to provide a stile to cross into the next field.
At Youlgreave we were upbeat, having finished the more uppy-downy parts of the hike. There were predictably a great deal of families and kids playing, soaking, relaxing in and around the lower regions of the River Bradford, and in hindsight, it might have been wise to stop at the ice cream van for a drink. But, we proceeded to Alport, finding there to be little of anything, before the final stretch along Lathkill Dale. This was where the previous eleven miles or so and the heat of the day really began to take their toll. It was also where we both discovered we hadn't brought enough water with us. A couple of stops along the side of the river to cool down provided welcome relief, but it was a hard slog along the last few miles back to Monyash.
I'm not sure it was as serious as heat exhaustion, but it was certainly a type of exhaustion I've not experienced at the end of a hike, and we were both definitely dehydrated. For once I was sensible and enjoyed a couple of pints of squash at the pub, rather than a lager.
So, on Saturday we return to the Malverns. With any luck my boots will have dried out by then.