This was by far the easiest day we've had so far. We knew it would be, and were rather surprised by the eventual mileage. My trusty map case cord measuring technique had estimated ten miles, my trusty finger spacing measuring technique was nearer the mark at eleven miles, but our final figure (using the trusty satellites tracking everything that you do from outer space combined with mobile fitness tracking application measuring technique) was 11.9 miles. As Adam noted – we walked further than yesterday, but our walking time was three hours less than yesterday. The differences were that today we had very little climbing – in fact none to speak of – and today we had almost total cloud cover all day.

So, this morning we were dropped off at Thornton in Craven, where we'd left off yesterday. After a brief meander through the village, we were in rolling farmland. The countryside wasn't too dissimilar to Leicestershire, but the cows and sheep in this region don't seem as partial to me as they are at home – the sheep just scatter when we approach, and the cows either regard us with disdain or ignore us completely (not that I have any argument with this – it's actually quite pleasant to get to the other side of a field without having one's backpack chewed).

After toying with the Leeds & Liverpool canal in a fashion so brief that it might be construed as playing "hard to get" the Way shuns its peaceful watery goodness and favours the pastureland again. It then crosses the Settle to Carlisle railway before arriving in Gargrave.
Gargrave is yet another one of those places that encourages you to think that you'd like to spend more time there. For once the Way goes straight through the middle of the village, past the beautiful church of St Andrew, over the peaceful River Aire, past the village green overlooking said river, and to the well maintained public convenience, which is no less welcome if you're a hiker in need.
We'd decided to take advantage of the watering holes available en route again. On finding the first pub not open, we continued forth and tried the tea rooms. This is where things started to take a turn for the awkward. I'd envisaged (as I'm sure Adam had) being able to purchase a bottle of flavoured water or similar and being able to sit down and relax for a few minutes. As we entered I took heed of the request for rucksacks to be removed, and gestured to Adam to do the same. It was at this point that the heat and humidity of the establishment hit us. We looked around briefly, spying one empty table among the many populated by elderly ladies (you might think this a gross generalisation not befitting a blog of this calibre, but I writes what I sees). We were told that there were more tables towards the back of the tea rooms, and were told of the quality of the art exhibition at the village hall if we had time. Due to the warmth of the establishment, we excused ourselves and departed. All we wanted was a cool drink after all. We had difficulty in locating the second pub we knew to be on our route, so asked someone who we thought might know of its whereabouts. Unfortunately the elderly Scottish lady was simply on a bus tour, but told us the gentleman in the village hall might know. So we entered the village hall, to be greeted with immediate thanks for patronising the art exhibition, given advice on how to go about voting for our favourite paintings, and informed of the location of the collection jar for donations. We'd also noticed that the village hall were serving refreshments, so we enquired after those, to be told that, yes, they were serving tea, coffee, scones and cakes. I felt the need for an escape strategy – we'd been in Gargrave for nearly half an hour already and we were nowhere nearer to the cool non-alcoholic beverages in calm, cool and peaceful surroundings that we craved. Neither of us wanted to be rude, and, given more spare time I'm sure we would have loved to view the works on display. But in the end, I just donated a fiver and asked the man where the pub was. After some discussion about what we were doing, walking the Pennine Way, we obtained directions, and hastened to The Old Swan Inn, where we achieved our aims.
From Gargrave there was a slight climb (though nothing really worth mentioning), before the Way dropped back down into the Aire valley.
The Way hugs the River Aire, crossing it a couple of times, before departing up a rather rude gradient up the road through Hanlith – a tiny hamlet that appears to consist of Hanlith Hall and not much else. From there it maintains the high ground until dropping back down into Malham.
It really is intriguing how different today has been from previous days. Farmland, pasture, rolling fields, lazy streams that are in no hurry to get anywhere, vs deep valleys, high summits, trig points, and jagged rocks. Tomorrow is going to be a return to the latter. Malham to Horton in Ribblesdale, via Malham Tarn, Fountains Fell and Pen-y-Ghent. So I'm taking the time to relax while I can today, before we climb to the limestone pavement and beyond.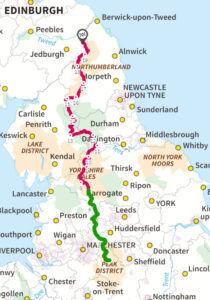 | Day # | Date | Start | Destination | Miles Walked | Cumulative Miles Walked |
| --- | --- | --- | --- | --- | --- |
| 1 | 07/07/2018 | Edale | Crowden | 16.1 | 16.1 |
| 2 | 08/07/2018 | Crowden | Standedge | 14.4 | 30.5 |
| 3 | 09/07/2018 | Standedge | Mankinholes | 13.5 | 44.0 |
| 4 | 10/07/2018 | Mankinholes | Ponden | 15.7 | 59.7 |
| 5 | 11/07/2018 | Ponden | Thornton in Craven | 11.5 | 71.2 |
| 6 | 12/07/2018 | Thornton in Craven | Malham | 11.9 | 83.1 |
| 7 | 13/07/2018 | Malham | Horton in Ribblesdale | 15.2 | 98.3 |
| 8 | 14/07/2018 | Horton in Ribblesdale | Hawes | 14.9 | 113.2 |
| 9 | 15/07/2018 | Hawes | Keld | 13.2 | 126.4 |
| 10 | 16/07/2018 | Keld | Bowes | 13.4 | 139.8 |
| 11 | 17/07/2018 | Bowes | Middleton | 12.5 | 152.3 |
| 12 | 18/07/2018 | Middleton | Dufton | 21.4 | 173.7 |
| 13 | 19/07/2018 | Dufton | Alston | 19.3 | 193.0 |
| 14 | 20/07/2018 | Alston | Greenhead | 16.7 | 209.7 |
| 15 | 21/07/2018 | Greenhead | Once Brewed | 7.9 | 217.6 |
| 16 | 22/07/2018 | Once Brewed | Bellingham | 15.6 | 233.2 |
| 17 | 23/07/2018 | Bellingham | Byrness | 15.7 | 248.9 |
| 18 | 24/07/2018 | Byrness | Trows Farm | 15.5 | 264.4 |
| 19 | 25/07/2018 | Trows Farm | Kirk Yetholm | 14.7 | 279.1 |