The day started off well, and to be honest, if it weren't for the vagaries of pub opening times, it would have ended well. It ended well enough, just that we missed out on an evening meal.
Both of us had a rather broken night's sleep at Mankinholes – nothing to do with the youth hostel – just our various running injuries taking their toll on our ability to sleep. I tell a lie – it was partly to do with the youth hostel. Both of us are 6 foot tall, and to comfortably stretch out in a youth hostel bunk involves hanging one's feet over the end of the bed.
Anyway, the youth hostel was very pleasant in all other respects. The wardens were lovely, and even disposed of a load of clothing for me (decided to trim down on what I'm carrying). We chatted to several of the youth hostel guests, some over breakfast (if that's what you can, with any degree of straight facedness, call my efforts at microwave porridge).
We left the hostel and decided to take the Pennine Bridleway around the base of Stoodley Pike, rather than making the 150 metre ascent, only to then descend it again after a mile. It's worth a visit, Stoodley Pike, but we visited 20 years ago, and, by most accounts, it hasn't changed a great deal.
From there we headed into Hebden Bridge, where we descended into the valley, to then climb immediately back out of the valley on the other side. The Pennine Way only plays with the outskirts of the town, so I've no idea really what the town is like. The brief, breathless glimpse from the side of the Calder Valley was certainly very pleasant all the same.
From Hebden Bridge the Way departs briefly from right to roam moorland and toys with a succession of fields left to grass, among a bewildering array of footpaths and bridleways. It then plunges straight back into said moorland over Clough Head Hill. Clough Head Hill felt very long and tiring. That's about all I have to say about Clough Head Hill.
Then the Way witnesses it's first reservoir of the day – Gorple Lower. It passed it by as it's far more interested in the mini-oasis that is Graining Water. Two peaty-brown streams converge and the Way crosses both said streams, allowing one to sit, relax, drink, listen to the delicate murmurings of the water playing with the rocks on the riverbed. All before one realises one still has at least six miles to walk that day.
So then, after a very dull service road (on which we were able to give some direction to a miss-directed Scottish couple), we skirted Walshaw Dean reservoir. This led to the ascent to Top Withins – supposedly the building that inspired Emily Brontë when she wrote Wuthering Heights. We met a couple of couples there, one at Top Withins, another on their way up.
On our way into Stanbury we were meant to go straight to The Old Silent Inn for an evening meal. However, this was made a rather difficult by the fact of it not being open. So, we went straight to our B&B – Ponden Guest House. I can heartily recommend it, having been here 19 years ago, and it having the same very accommodating owner.
Footnote – we're now off to Howarth for a curry.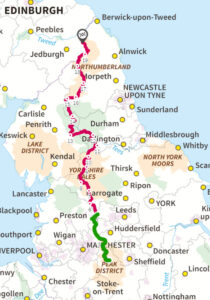 | Day # | Date | Start | Destination | Miles Walked | Cumulative Miles Walked |
| --- | --- | --- | --- | --- | --- |
| 1 | 07/07/2018 | Edale | Crowden | 16.1 | 16.1 |
| 2 | 08/07/2018 | Crowden | Standedge | 14.4 | 30.5 |
| 3 | 09/07/2018 | Standedge | Mankinholes | 13.5 | 44.0 |
| 4 | 10/07/2018 | Mankinholes | Ponden | 15.7 | 59.7 |
| 5 | 11/07/2018 | Ponden | Thornton in Craven | 11.5 | 71.2 |
| 6 | 12/07/2018 | Thornton in Craven | Malham | 11.9 | 83.1 |
| 7 | 13/07/2018 | Malham | Horton in Ribblesdale | 15.2 | 98.3 |
| 8 | 14/07/2018 | Horton in Ribblesdale | Hawes | 14.9 | 113.2 |
| 9 | 15/07/2018 | Hawes | Keld | 13.2 | 126.4 |
| 10 | 16/07/2018 | Keld | Bowes | 13.4 | 139.8 |
| 11 | 17/07/2018 | Bowes | Middleton | 12.5 | 152.3 |
| 12 | 18/07/2018 | Middleton | Dufton | 21.4 | 173.7 |
| 13 | 19/07/2018 | Dufton | Alston | 19.3 | 193.0 |
| 14 | 20/07/2018 | Alston | Greenhead | 16.7 | 209.7 |
| 15 | 21/07/2018 | Greenhead | Once Brewed | 7.9 | 217.6 |
| 16 | 22/07/2018 | Once Brewed | Bellingham | 15.6 | 233.2 |
| 17 | 23/07/2018 | Bellingham | Byrness | 15.7 | 248.9 |
| 18 | 24/07/2018 | Byrness | Trows Farm | 15.5 | 264.4 |
| 19 | 25/07/2018 | Trows Farm | Kirk Yetholm | 14.7 | 279.1 |