Well.
Today was a challenge, and a half, and another half on top of that. In fact, I regret (and am ashamed) to say I had to miss out the last few miles 🙁
Day two was always going to be a struggle, especially as it starts with a 400 metre climb in a little less than four miles. But of course the sun had his hat on, and he (she?) really meant business. There were clear blue skies and it was already very warm at 7:30 when we had breakfast (in a lovely B&B I might add – The Old House on Torside).
We were sweating just on the approach to the climb, across open fields with the occasional respite provided by lone groups of trees. But then the next 3-400 metres (climb, that is) just about did me in. With constant stopping to catch our breath and drink water, it was then well into the afternoon before we got to more level ground, having covered little more than a third of the distance.
With a mainly flag-stoned approach to Black Hill, it was fairly easy underfoot. But it was still climbing, and I'm afraid I started to fall apart. I think both of us have been struggling with carrying enough water to stay sufficiently hydrated, and today was no exception.
Black Hill certainly held a different appearance to 20 years ago. Peat bog has been replaced (on the surface at least) with grass – to hold together and protect the peat, so we learnt. It was on Black Hill that I sank to my knees in the peat 20 years ago – no chance of that now.
We then descended Black Hill, which, with rather brief attention to the map, we'd assumed was pretty much downhill. That is apart from two or three deep groughs, which needed to be descended and then climbed. As we made the climb up to the A635, I had to surrender. My legs had checked out and my brain certainly had. Adam finished the walk, arriving at our B&B at about half seven, I somewhat earlier in a taxi 🙁
Tomorrow is meant to be easier, and is another day.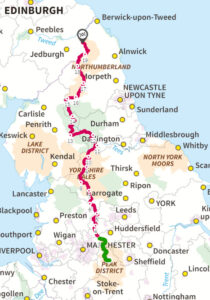 | Day # | Date | Start | Destination | Miles Walked | Cumulative Miles Walked |
| --- | --- | --- | --- | --- | --- |
| 1 | 07/07/2018 | Edale | Crowden | 16.1 | 16.1 |
| 2 | 08/07/2018 | Crowden | Standedge | 14.4 | 30.5 |
| 3 | 09/07/2018 | Standedge | Mankinholes | 13.5 | 44.0 |
| 4 | 10/07/2018 | Mankinholes | Ponden | 15.7 | 59.7 |
| 5 | 11/07/2018 | Ponden | Thornton in Craven | 11.5 | 71.2 |
| 6 | 12/07/2018 | Thornton in Craven | Malham | 11.9 | 83.1 |
| 7 | 13/07/2018 | Malham | Horton in Ribblesdale | 15.2 | 98.3 |
| 8 | 14/07/2018 | Horton in Ribblesdale | Hawes | 14.9 | 113.2 |
| 9 | 15/07/2018 | Hawes | Keld | 13.2 | 126.4 |
| 10 | 16/07/2018 | Keld | Bowes | 13.4 | 139.8 |
| 11 | 17/07/2018 | Bowes | Middleton | 12.5 | 152.3 |
| 12 | 18/07/2018 | Middleton | Dufton | 21.4 | 173.7 |
| 13 | 19/07/2018 | Dufton | Alston | 19.3 | 193.0 |
| 14 | 20/07/2018 | Alston | Greenhead | 16.7 | 209.7 |
| 15 | 21/07/2018 | Greenhead | Once Brewed | 7.9 | 217.6 |
| 16 | 22/07/2018 | Once Brewed | Bellingham | 15.6 | 233.2 |
| 17 | 23/07/2018 | Bellingham | Byrness | 15.7 | 248.9 |
| 18 | 24/07/2018 | Byrness | Trows Farm | 15.5 | 264.4 |
| 19 | 25/07/2018 | Trows Farm | Kirk Yetholm | 14.7 | 279.1 |