A very pleasant stay at Butt House in Keld, and I think our hosts have been the most accommodating and caring so far. That's not to say that our previous hosts have been negligent – in fact, so far, all of the B&Bs and youth hostels have been great (aside from the Hawes laundry incident). Chris and Jacqui at Butt House were concerned for our well-being when we arrived, and couldn't do enough for us.
Breakfast was wonderful, and it was good talking to the others staying at the B&B. All of the other guests were walking the Coast to Coast, as Keld is the crossing point of the Pennine Way and the Coast to Coast. The other guests were mainly using travel companies to arrange accommodation and transport baggage – this morning the boot room was full of suitcases as we were preparing to leave. Chris protested that he wasn't photogenic when I press-ganged him into being in our selfie.
So, we set off into the rain this morning. The rain quickly slowed to a drizzle, and then stopped as we made the climb out of the valley from Keld. A little bit more of a climb put us on the side of the valley overlooking the Tan Hill Inn.
We ventured forth into the warm embrace of the pub for a pint of squash and a tonic water, just before a coach load of elderly walkers arrived. We took the obligatory selfie outside the pub, and took over the bar area with rucksacks, walking poles and paraphernalia. Of course we removed said items to offer seats when they were needed.
After the Tan Hill Inn, all I can say is – featureless moorland, featureless moorland, featureless moorland, ooh, a stream, featureless moorland, featureless moorland, D of E group, featureless moorland, D of E group, featureless moorland, featureless moorland, ooh a stream, etc etc ad infinitum laborium. I know moorland is an important habitat, for animals, insects etc, but I'm afraid I don't find it the most illuminating of hike routes.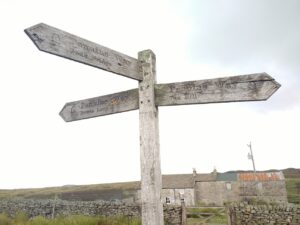 As yesterday, it was the last three miles that were difficult, but for different reasons. We came off the moor and onto more conventional farmland, following the Sleightholme Beck, and then the River Greta into Bowes, past the ruins of Bowes castle.
So here we are at The Ancient Unicorn for the night, before a short hike over to Middleton in Teasdale tomorrow. After that though, we have two days of 20 miles, which, I won't lie – I'm really worried about. It's certainly been fifteen years at least since I've walked that distance in one day. Anyway, that's the day after tomorrow.
| Day # | Date | Start | Destination | Miles Walked | Cumulative Miles Walked |
| --- | --- | --- | --- | --- | --- |
| 1 | 07/07/2018 | Edale | Crowden | 16.1 | 16.1 |
| 2 | 08/07/2018 | Crowden | Standedge | 14.4 | 30.5 |
| 3 | 09/07/2018 | Standedge | Mankinholes | 13.5 | 44.0 |
| 4 | 10/07/2018 | Mankinholes | Ponden | 15.7 | 59.7 |
| 5 | 11/07/2018 | Ponden | Thornton in Craven | 11.5 | 71.2 |
| 6 | 12/07/2018 | Thornton in Craven | Malham | 11.9 | 83.1 |
| 7 | 13/07/2018 | Malham | Horton in Ribblesdale | 15.2 | 98.3 |
| 8 | 14/07/2018 | Horton in Ribblesdale | Hawes | 14.9 | 113.2 |
| 9 | 15/07/2018 | Hawes | Keld | 13.2 | 126.4 |
| 10 | 16/07/2018 | Keld | Bowes | 13.4 | 139.8 |
| 11 | 17/07/2018 | Bowes | Middleton | 12.5 | 152.3 |
| 12 | 18/07/2018 | Middleton | Dufton | 21.4 | 173.7 |
| 13 | 19/07/2018 | Dufton | Alston | 19.3 | 193.0 |
| 14 | 20/07/2018 | Alston | Greenhead | 16.7 | 209.7 |
| 15 | 21/07/2018 | Greenhead | Once Brewed | 7.9 | 217.6 |
| 16 | 22/07/2018 | Once Brewed | Bellingham | 15.6 | 233.2 |
| 17 | 23/07/2018 | Bellingham | Byrness | 15.7 | 248.9 |
| 18 | 24/07/2018 | Byrness | Trows Farm | 15.5 | 264.4 |
| 19 | 25/07/2018 | Trows Farm | Kirk Yetholm | 14.7 | 279.1 |